Goodbyes already had a more profound meaning for David Garcia, who lost his wife to cancer nearly a decade ago. He and his son know that tomorrow is promised to no one.
In the spring of 2021, the family was yet again reminded of the fragile nature of life when David was hospitalized after contracting COVID-19. Within days, he was on life support in an Intensive Care Unit, where critical care teams and an array of medical equipment worked tirelessly to keep him alive.
For families like David's from throughout British Columbia, a vital part of their care comes as a result of the generosity of donors like you to TB Vets Charitable Foundation.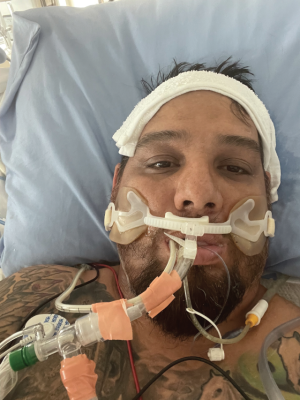 When David first went to Nicola Valley Hospital and Heath Centre in Merritt, he figured he would be back home in no time. But the virus had other plans, and soon the nasal cannula supplying him oxygen became essential to survive. And then, it was no longer enough.
As David went into respiratory arrest, he was rushed to Royal Inland Hospital in Kamloops for the highest level of care available.
David spent the next six days in an induced coma, hooked up to an assortment of critical care machines. He had two IV lines in his right forearm, a central line in his neck for feeding, a catheter, sensory pads covering his torso, and a ventilator mechanically breathing for him.
Your donations to TB Vets help arm the medical frontline in the fight for respiratory care by providing critical respiratory equipment, research and education in BC.
David spent nearly two weeks on a TB Vets supplied ventilator. He remembers the moment when he took his own breath again
"It was shallow, but it was mine and mine alone," David recalls. "I felt a freedom that cannot be explained. It was like being born again, a pivotal moment of a second chance."
Because of the medical care that was available to David during more than three weeks in hospital, he was able to return home to his son. Despite a lengthy road to recovery, David feels as if he has been brought back to life.
"Thank you for all that you have given me and continue to give me," he says. "Words just won't do justice to the amount of gratitude I have." He says
For over 75 years, TB Vets Charitable Foundation has given hope to individuals and families in their hour of great need. Donors like you are helping others from throughout the province who are struggling with life-threatening breathing complications.