Get Up and Breathe Fitness Program
Wednesdays at 10 AM PDT via Zoom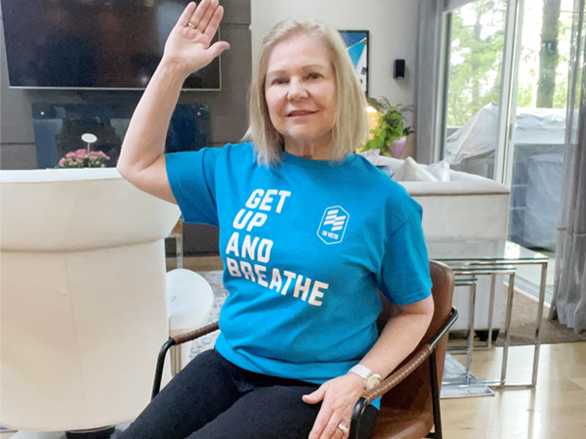 As part of our mission for better respiratory health, TB Vets is launching a brand new initiative – a FREE online fitness program suitable for all ages, with a focus on better heart and lung health. All fitness levels welcome!
The Class
Our class instructor, Susana, is great at offering variations for each exercise, and in motivating everyone to exercise to the best of their ability, all in a friendly, supportive and fun environment. You don't need to buy any equipment in order to participate in this program. All you will need is a chair, comfortable clothes and maybe a book or two to use as weights.
Schedule
You're free to join the classes every Wednesday at 10 AM PDT via Zoom.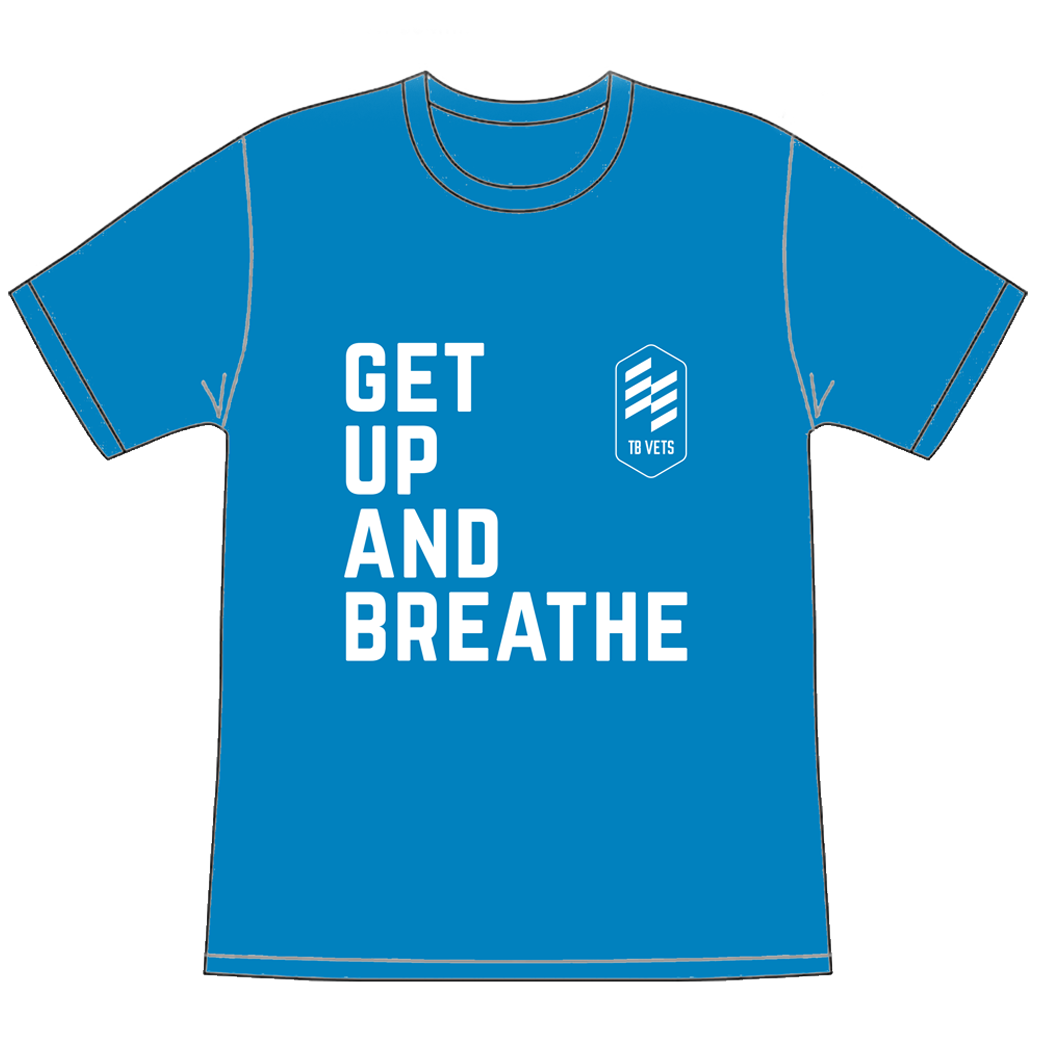 An Appreciation Gift for You
As a thank you for participating in the Get Up and Breathe Fitness Program, we would like to offer you a TB Vets T-shirt, graciously sponsored by 4imprint. Note that T-shirts are currently backordered and are coming soon. Available while quantities last.

Susana Williams has been a health and fitness professional for over twenty years and holds a BA in Psychology from the University of British Columbia. She is a 200-hr Registered Yoga Teacher and an ACE (American Council on Exercise) and a Certified ACE Behavioural Change Specialist. Susana has worked for some of the major fitness-corporations in Canada, including GoodLife Fitness, Anytime Fitness, and Steve Nash Fitness World and Sports Clubs. She has also owned and operated two fitness and wellness businesses in the Lower Mainland. She is dedicated to approaching health from a holistic perspective and providing her clients, team members and students with the support and encouragement they need to reach their highest personal potential at their own pace.
If you would like to make an additional contribution, or become a TB Vets donor, every dollar you give will help us provide more respiratory equipment to hospitals and clinics across the province: tbvets.org/donate
To access our video recordings, please click here: https://bit.ly/youtube-tbvets
Registration is good for only one participant. If you would like to invite friends and family to join you during any class, each individual would need to agree to the terms of the waiver before signing up.
RELEASE OF LIABILITY, WAIVER OF CLAIMS, ASSUMPTION OF RISKS AND INDEMNITY AGREEMENT (the "Agreement")

BY AGREEING TO THIS AGREEMENT YOU AGREE TO WAIVE CERTAIN LEGAL RIGHTS, INCLUDING THE RIGHT TO SUE. PLEASE READ THIS DOCUMENT CAREFULLY.

I hereby acknowledge and agree to the following terms and conditions of this Agreement:

I am voluntarily participating in the online training sessions and group classes (the "Fitness Program") provided by the TB Vets Charitable Foundation and its employees, volunteers, contractors, and agents (collectively, the "Operator"). Fitness Program shall include all activities, programs, events, classes, and services provided, sponsored or organized by the Operator, including but not limited to, yoga, aerobics, weight training, personal training; use of strength training and fitness conditioning equipment, machines and facilities; nutritional and dietary programs; orientation or instructional sessions or lessons; and all other such related activities.

I understand that it is my responsibility to consult a physician prior to and regarding my participation in the Fitness Program. To the best of my knowledge, my physical condition and fitness are adequate for me to participate in the Fitness Program and I am unaware of any reason, physical or otherwise, why I should not participate. In particular, no physician or other qualified individual has advised me against participating in the Fitness Program or any other physical activity.

I agree to remove myself from participation in the Fitness Program and consult a physician, if at any time I experience any deterioration in my physical, emotional or mental condition.

I agree to assume full responsibility for any risks, injuries, or damages known or unknown to my person or property arising out of or in connection with my participation in the Fitness Program. Such injuries include but are not limited to heart attacks and strokes, muscle strains and pulls, soreness, muscle tears, broken bones, shin splints, injuries to knees, back, ankles, and feet, dehydration, fatigue, overexertion, or any other illness including death.

I agree to assume full responsibility for any risks related to the participation of the Fitness Program in my home environment, including but not limited to, defective, dangerous or unsafe conditions, falls, and collisions with objects, equipment or persons.

I agree to assume full responsibility for any equipment I use in connection with my participation in the Fitness Program, including but not limited to, mechanical failure of the equipment; negligent design or manufacture of the equipment; the provision of or the failure by the Releasees to provide any warnings, directions, instructions or guidance in connection with the use of the equipment; and the failure to use or operate the equipment within my own ability.

I hereby agree TO WAIVE ANY AND ALL CLAIMS that I, my heirs, executors, administrators, and representatives (collectively, the "Releasors") have or may in the future have against TB Vets Charitable Foundation, including but not limited to, its directors, employees, agents, partners, contractors, and sponsors (collectively, the "Releasees") AND TO RELEASE, INDEMNIFY, AND FOREVER DISCHARGE THE RELEASEES from any and all liability for any claim, loss, damage, expense or injury including death that I or any other person may suffer in connection with my participation in the Fitness Program DUE TO ANY CAUSE WHATSOEVER, including but not limited to, negligence on the part of the Releasees; breach of contract by the Releasees; breach of any statutory or other duty of care including any duty of care owed under the Occupiers Liability Act, R.S.B.C. 1996, c. 337, on the part of the Releasees; and the failure on the part of the Releasees to safeguard or protect me from the risks, dangers and hazards of the Fitness Program, some of which are referred to above in the assumption of risk sections of this Agreement.

This Agreement and any rights, duties and obligations as between the parties to this Agreement shall be governed by and interpreted solely in accordance with the laws of the Province of British Columbia, and I agree to attorn solely to the jurisdiction of the Courts of the Province of British Columbia.

I HAVE READ THIS DOCUMENT THOROUGHLY AND UNDERSTAND AND AGREE TO ITS CONTENTS. I AM AWARE THAT BY AGREEING TO THIS AGREEMENT I AM WAIVING CERTAIN LEGAL RIGHTS WHICH I, MY HEIRS, EXECUTORS, ADMINISTRATORS AND REPRESENTATIVES MAY HAVE AGAINST THE RELEASEES, INCLUDING BUT NOT LIMITED TO, THE RIGHT TO SUE THE RELEASEES IF PERSONAL INJURY, ILLNESS, DEATH, OR DAMAGE TO MYSELF OR ANY OTHER PERSON OR DAMAGE TO PROPERTY OCCURS IN CONNECTION WITH MY PARTICIPATION IN THE FITNESS PROGRAM.