A persistent cough had bothered Dunja McCrae for months. A CT scan showed a large mass in her lungs. Dunja couldn't have been more nervous. On the day of her bronchoscopy – a medical exam on the lungs and airways – Dunja wondered, as many patients would: What if it was cancer?
As a respirologist at Langley Memorial Hospital, Dr. Rita Wittmann sees that a lot in her patients. Most people come to her when they're struggling with breathing problems, a persistent cough, or a lingering lung infection. They may need treatment for scarred lung tissue or a blockage that other, less advanced scans can't detect. They may be suffering from the effects of a COVID-19 infection.
Dr. Wittmann's team is seeing more and more patients with lung issues that have intensified over the last two years.
"During the pandemic, many who suffered from lung problems were too cautious to visit the hospital," says Dr. Wittmann. "Now their symptoms are worse."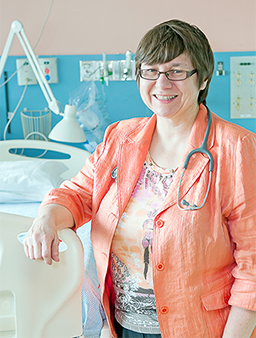 The hospital currently needs to acquire four new bronchoscopes to replace devices that are at the end of their lives. Each costs $36,300.
"Our ability to continue testing and providing the quick care our patients deserve is limited, not by our skills but simply by the age and quality of our medical equipment," says Dr. Wittmann.
To further empower Dr. Wittmann and her team, TB Vets is proud to partner with Langley Hospital. For a limited time, your donation will be instantly doubled (up to $50,000) with all funds going directly towards the purchase of bronchoscopes. That means your donation will have twice the impact and help ensure Dr. Wittmann's patients will continue to receive the life-changing care they need.
Dunja's story shows just how important it is for the respirology team to have bronchoscopes on hand. "If Langley Memorial didn't have these bronchoscopes," Dunja says, "I don't think I would've had an appointment on time. I had a really quick intake, and that alleviated a lot of my worries."
Thanks to the bronchoscopy, the hospital was able to diagnose Dunja with Allergic Bronchopulmonary Aspergillosis (ABPA). It's a reaction to aspergillus, or mould in the lungs, which caused a partial collapse of her lung.
After rounds of medication, she's feeling healthier than ever.