The Impact of Technegas Lung Imaging System Upgrade on Nuclear Medicine
I'm a Nuclear Medicine Technologist, and I have been performing lung imaging here at Royal Jubilee Hospital (RJH) since 1981. Over the years, I have seen several different ways of conducting imaging that shows air supply to a patient's lungs.
There are many reasons for doing a lung scan, but the two most common are: pulmonary embolism (this happens when a blood clot gets stuck in an artery in the lung, blocking blood flow to part of the lung), and surgical planning for lung cancer. In both cases, the patient can be short of breath, and many come to breathing-related problems and us with chronic obstructive pulmonary disease (COPD), which refers to a group of diseases that cause airflow blockage.
Past imaging technology like radioactive Xenon gas inhalation resulted in image quality that was hit and miss. The patient had to be able to take a good deep breath and hold it for as long as they could in order for us to image them. If they were unable to take a deep breath, the gas would not get fill their lungs enough, resulting in very poor images. The same challenge occurred if the patient could not hold their breath for more than a few seconds. This technology also only allowed technologists to capture a posterior view, which was very limiting.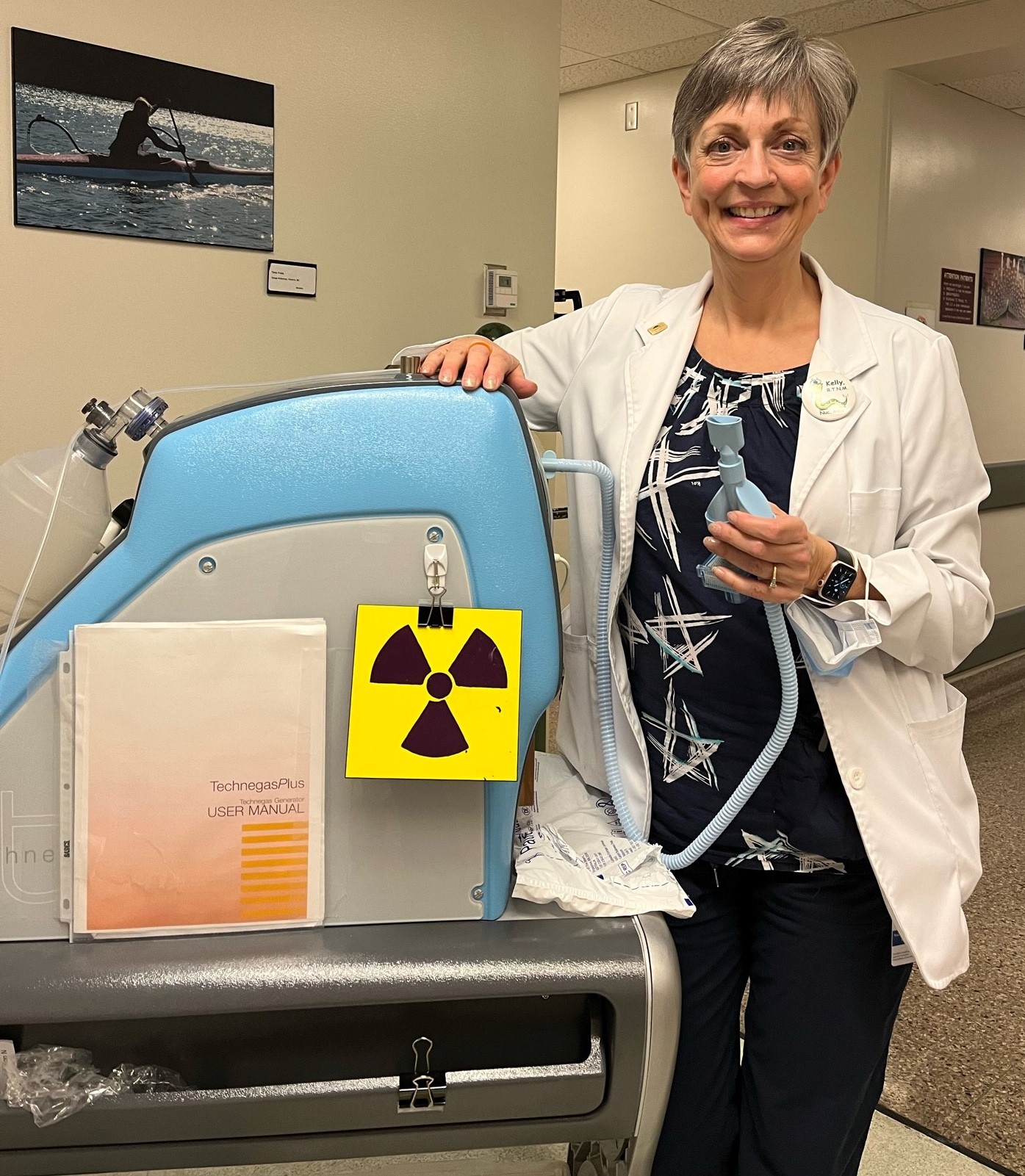 I LOVE this system. It provides beautiful images with only one breath—and occasionally two breaths—which is much easier and more comfortable for the patient. This reduces the gas delivery time from upwards of five minutes down to 20 seconds.
The images only show the air supply to the lungs, and not the mouth, esophagus, or stomach as in past radioactive nebulized imaging. In short, this system provides stellar imaging with minimum stress to the patient, and in turn, is much simpler for the technologist. This system also allows us to get such clear images that we can actually get 3D imaging of the lungs, vastly improving what radiologists are able to report. 
We also have a new category of lung investigation in recent years, which is called chronic thromboembolic pulmonary hypertension (CTEPH). This occurs when there is elevated blood pressure in the pulmonary arteries caused by chronic blood clots, which obstruct the free flow of blood through the lungs. These folks are often extremely short of breath, again making this new Technegas system a godsend—we can get extremely good images even if the patient isn't able to take a deep breath.
In short, the Technegas Lung Imaging System upgrade has truly meant better service for our patients and incredibly improved imaging. Many thanks to TB Vets for helping to fund this equipment for our department.