TB Vets is proud to report that in 2018-19 the Foundation's cost per dollar was 23 cents (excluding community awareness and public engagement), which is lower than the industry average of 25 cents.
Thanks to our donors, our 2018-19 consolidated revenue, including investments, totalled $1,593,773. Together with our donors and supporters, we have made a direct and significant impact on health care in our province.
The following financial highlights are based on TB Vets Foundation's audited financial statements for our fiscal year ending September 30, 2019.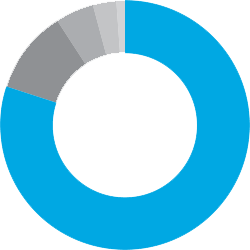 80%   Respiratory Equipment
1 of 5
11%   Research
2 of 5
5%   Recreation Therapy
3 of 5
3%   Education
4 of 5
1%   First Responders
5 of 5
Distribution of Donated Funds
| | |
| --- | --- |
| 80% | Respiratory Equipment |
| 11% | Research |
| 5% | Recreation Therapy |
| 3% | Education |
| 1% | First Responders |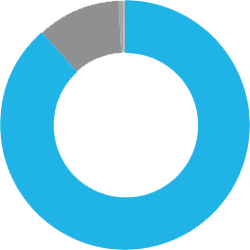 89%   Philanthropy from Key Tags
1 of 4
11%   Investment and Other Income
2 of 4
.38%   Events
3 of 4
.23%   Bequests
4 of 4
| | |
| --- | --- |
| 89% | Philanthropy from Key Tags |
| 11% | Investment and Other Income |
| .38% | Events |
| .23% | Bequests |
| | 2019 | 2018 |
| --- | --- | --- |
| REVENUE | | |
| Philanthropy from Key Tags | $1,415,854 | $1,370,801 |
| Bequests | $3,570 | $8,204 |
| Events | $6,025 | $9,252 |
| Investment & Other Income | $168,324 | $160,930 |
| | = $1,593,773 | = $1,549,187 |
| EXPENSES | | |
| --- | --- | --- |
| Foundation Operations | $367,409 | $355,539 |
| Community Awareness & Public Engagement | $515,885 | $447,109 |
| | = $883,294 | = $802,648 |
EXCESS OF REVENUE OVER EXPENSES BEFORE GRANTS
Funds granted for:

$710,479

$746,539

Hospital Equipment

$645,347

$369,385

First Responders

$5,982

$38,000

Education

$26,195

$12,900

Research

$85,000

$95,000

Recreation Therapy

$40,600

$40,600

= $803,124

= $555,885
| EXCESS OF REVENUE OVER EXPENSES AND GRANTS | $92,646 | $190,654 |
| --- | --- | --- |
| Fund Balances, beginning of year | $2,477,310 | $2,286,656 |
| Fund Balances, end of year | $2,384,664 | $2,477,310 |
*Full audited financial statements may also be requested by phone call to TB Vets at 1.888.874.5626 (toll-free)