We are proud to report the impact of our donors' dollars to BC's respiratory frontline.
Robert Underhill, Board Chair (2019-2020) and Kandys Merola, CEO
From the Board Chair and CEO
We have all been through a lot over the last year.
While the pandemic has brought immense challenges, it has also provided moments that have lifted our spirits, including when our community has come together to support each other.
Here you will find stories and photos from BC hospitals and frontline caregivers, whose compassion and dedication has remained constant in this time of crisis. You will also hear from a brave COVID-19 patient, who survived the deadly virus with the support of a TB Vets-donated ventilator. In addition there is an encouraging story about premature twins who had the best chance possible for survival because your generous donations helped purchase a specialized ventilator for infants.
Also, please see our reports on Tuberculosis and Respiratory Researchers who are passionate about their work; advanced education for the next generation of skilled respiratory students; and dedicated first responders who received life-saving equipment because of your donations.
Once again, I thank you for your dedication and support of TB Vets. You are helping us ensure that TB Vets remains ready to take on life's challenges – now and in the future.
With warmest regards and sincere gratitude,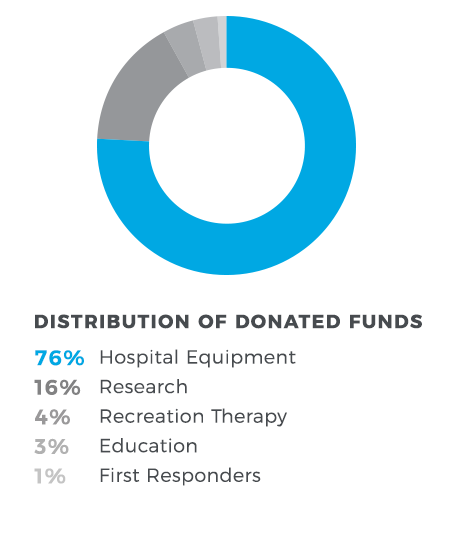 In 2019-20, TB Vets Charitable Foundation's cost per dollar was 17.5 cents (excluding community awareness and public engagement), which is lower than the industry average of 25 cents.
Thanks to our donors, our 2019-20 consolidated revenue, including investments, totalled $1,988,730. Together with our donors and supporters, we have made a direct and significant impact on respiratory care in our province.
The following financial highlights are based on TB Vets' audited financial statements for our fiscal year ending September 30, 2020. The Foundation's statements are audited by Rolfe Benson LLP Chartered Professional Accounts.
"My husband had TB in 1965 and my father died of TB back in Scotland. Most of us had tested positive in that era, and so it's a very natural thing for me to donate to TB Vets."
"My sister Sandra and I have been donating for some time because of our father, a WWII Veteran who suffered from lung issues because of his service and complications later. Nothing matters if you can't breathe - we know that all too well. Thanks for all you have done and all that you do for everyone you support."
"I learned about TB Vets as an employee of Veterans Affairs Canada in the '90s. I worked with WW2 Veterans who themselves had TB, and actually worked for the organization many years ago. The employment gave them an opportunity to contribute in a meaningful way that they might not otherwise have had. Also, one of my sons, now 34, has had asthma since he was a child. Respiratory diseases have had an impact on my life. Thank you for all of the good work that you do."
"I have TB Vets Key Tags from 1974 and 1975 when the licence plate number was on the tag. I know TB Vets' key return system works. I lost my keys on an aircraft overhead and got them back as they had a TB Vets key tag attached. In fact I still have the car."
"My donation is in memory of my grandfather who was gassed during the First World War and always had breathing issues for as long as I knew him."
"My mom had TB when she was young and expecting. I was even born at a TB Ward in Edmonton in 1949. She also suffered from COPD for many years. I know how important it is to support [TB Vets] and help [others] breathe easier."
"I am very passionate about TB Vets, learning about it from my grandparents who were war Veteran survivors and regular supporters. I have been donating to the TB Vets Key Tag Program since moving to BC in 1987 and I think it's a great fundraiser for an even greater cause."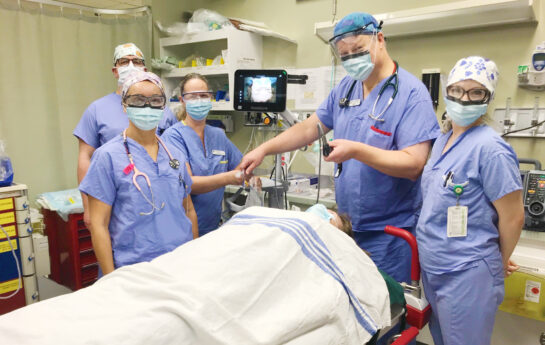 Medical staff at Delta Hospital's Emergency Department are thankful to TB Vets donors for their newly acquired respiratory equipment. The advanced device helps view a …
TB Unit Update
"It's been a busy year in the TB Unit at VGH, as we have been at full capacity with 12 patients. Fortunately, there is [Samantha], a full-time recreation therapy student who is completing her internship in the TB Unit. The extra help proved especially important during the pandemic.  […]"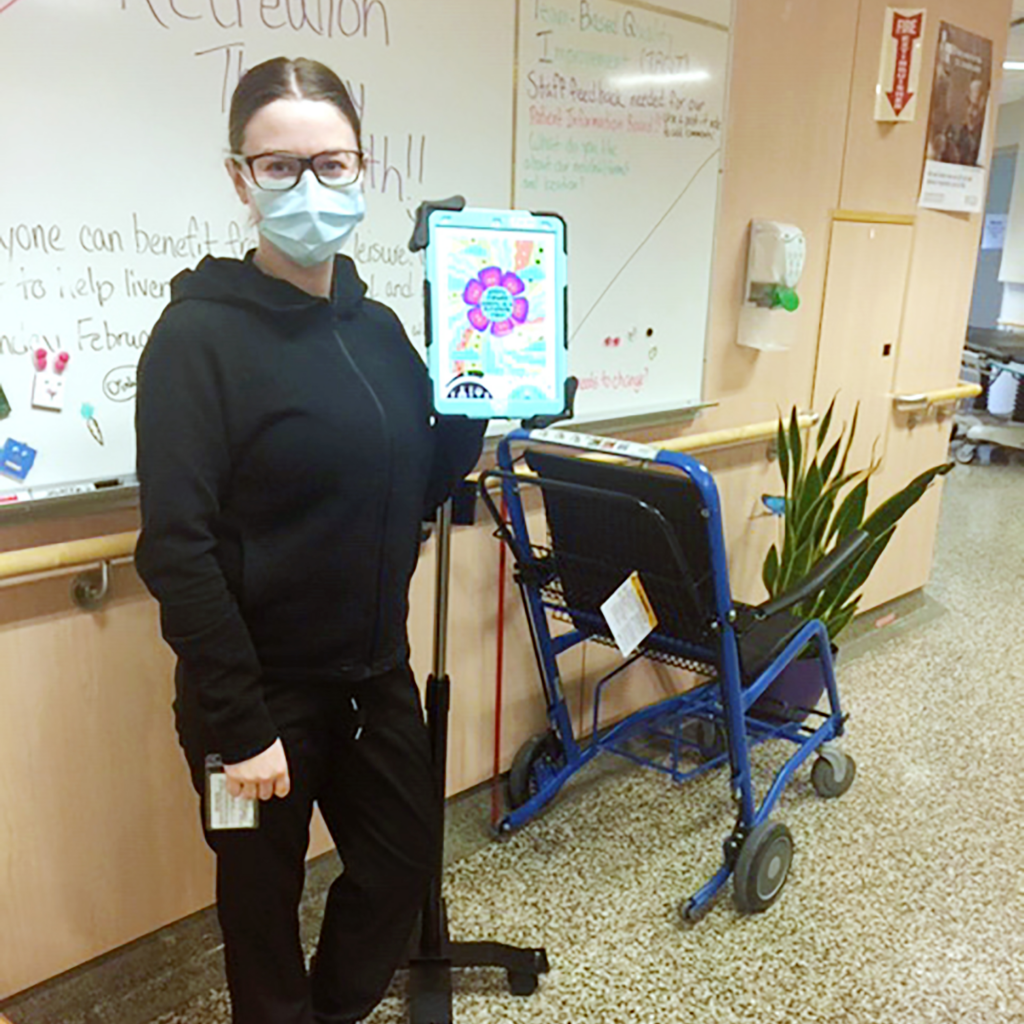 Total amount funded by TB Vets since 1987 towards Respiratory Education at Thompson Rivers University (TRU)
Board of Directors, 2019-2020
Robert Underhill
Chair
Amar Tiwana
Katherine Young
Barb Walter Venne
Vice Chair
Danny Redden
Dan London
Gordon Coburn
Secretary / Treasurer
Sheila Hamilton