We are proud to report the impact of our donors' dollars to BC's respiratory frontline.
From the Board Chair and Executive Director
We write this, hoping each of you stays safe during these challenging times. We are grateful for the opportunity to reach out to loyal donors like you, recognizing the exceptional difficulties we currently face in our communities and across the country. […]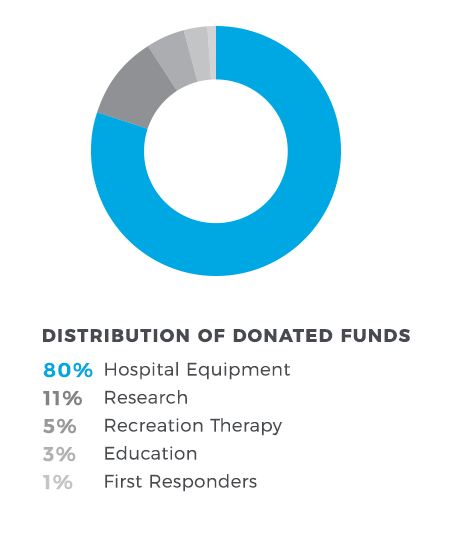 TB Vets is proud to report that in 2018-19 the Foundation's cost per dollar was 23 cents (excluding community awareness and public engagement), which is lower than the industry average of 25 cents.
Thanks to our donors, our 2018-19 consolidated revenue, including investments, totalled $1,593,773. Together with our donors and supporters, we have made a direct and significant impact on health care in our province.
The following financial highlights are based on TB Vets Foundation's audited financial statements for our fiscal year ending September 30, 2019.
I was a NICU nurse so I know how important ventilators are.
My father and mother were both Veterans, and instilled me with the obligation at a young age to donate to this worthy cause. Over the years, they have had their keys returned as well, and so have I. I applaud your ongoing efforts to make a difference.
"I donate in honour of my mother, who was a war bride and suffered from TB. My siblings and I were only 2, 4 and 8 at the time. After her treatment, she came home from the sanitarium and was always attentive to our needs and disease prevention. I remember every family member had a different colour plate, and mom would always wash hers last. As a child, I was mindful when mom would cough, but she lived a long and healthy life and passed away at 91."
"I grew up in the vicinity of Pearson Hospital in Vancouver in the '60s, and as a student would visit patients using iron lungs. It made a lifelong impression so when I first became aware of TB Vets, I wanted to donate."
"My grandfather was exposed to mustard gas during WWI and suffered respiratory problems for the rest of his life. He has always been in my thoughts when I donate to TB Vets."
"I firmly believe it is imperative that we all reach out and help, no matter one's circumstances. I was a single mom all my life and still tried to support causes I believe in, like TB Vets. I always promoted the fact to my daughter that every donation can make a huge difference in people's lives. When I donate to TB Vets it is like giving "breath" to those who struggle daily. I believe in your Foundation and will continue to give as respiratory illness is still affecting people of all ages."
"TB Vets does great work and the need won't stop anytime soon!"
"I have a special interest in TB, and although I did not have respiratory TB, I had TB of the spine at 13 and was in an orthopaedic children's hospital for TB for 18 months. The cause was bovine from unpasteurized milk. TB Vets' hard work is much appreciated."
"We've had keys returned a few times. The most memorable were keys dropped in the snow in a parking lot in Prince George, and while hiking with our dog in the hills above Penticton. We appreciate the work done by TB Vets in regards to respiratory health, and having a proven key return program is a bonus."
"My father, Dr. George Saxton, was very instrumental in TB research, surgery and control at the Willow Chest Centre at Vancouver General Hospital until his retirement in 1973. That is why I contribute to TB Vets."
Recreation Therapy is important in maintaining the social, emotional and cognitive wellness of patients struggling with serious health conditions. TB Vets recognizes the need for meaningful leisure of TB patients; They are commonly isolated for months on end, unable to do their usual routine and spend time outside with loved ones. With the help of donors, TB Vets is able to support the TB Unit at Vancouver General Hospital. 
Sorry, we couldn't find any posts. Please try a different search.
Total amount funded by TB Vets since 1987 towards Respiratory Education at Thompson Rivers University (TRU)
Number of Respiratory Therapy students graduating this year and eagerly entering the workforce. Our new RTs are needed more than ever.
Board of Directors, 2019-2020
Robert Underhill
Chair
Amar Tiwana
Katherine Young
Barb Walter Venne
Vice Chair
Danny Redden
Dan London
Gordon Coburn
Secretary / Treasurer
Sheila Hamilton
Retired Board Members:
Peter Merola, Lizz Lindsay, Al Delucrezia